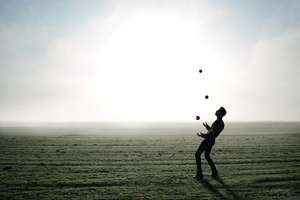 This is a list of my side-projects. All of them are non-profit (actually, for-loss, as they all cost me a lot of money).
Some are defunct, some haven't been updated in a while, some are alive and well. I use it as a reference for potential recruiters, but also as a guilt trip and self-shaming method to force myself to update the projects or mark them as discontinued. They are ordered by last updated time, most recent first.
DeFi Academy (Last Update: July 2019)
Active
DeFi Academy (https://defi.academy) is a traveling DeFi workshop which I host in various locations, currently over Croatia. It consists of lessons in blockchain, DeFi, programmable money, and practical hands-on exercises designed to teach attendees how to interact with the world of DeFi safely.
Coin Events (Last Update: July 2019)
Active
CoinEvents (https://coinevents.io) is a global map of blockchain-related events. It also allows custom event submission, lets users sell tickets for events, gather RSVPs, and more. Its aim is to have users drop into a city, look at the map, and immediately be aware of events they can crash. Events submitted to CoinEvents are eligible for having their basic costs covered through Blockada DAO (see Blockada DAO on this page).
Blockada.io / DAO (Last Update: July 2019)
Active
Blockada (https://blockada.io) is an NGO in Croatia dedicated to organizing two annual events - Blockconf.io and Blocksplit.org. We also serve as the fiscal host for some other organizations to make event planning easier. Blockada DAO is the decentralized autonomous organization used for funding event and meetup basic costs. Details are available at https://blockada.io/dao. The DAO project is in development, scheduled for launch in Q3 2019 - see Coinevents project on this page.
Wallets Review (Last Update: May 2019)
Could use a refresh!
Wallets Review (https://wallets.review) is a website for comparing various mobile and desktop cryptocurrency wallets by feature, rather than some subjective arbitrary rating.
Valhello.app (Last Update: January 2019)
Outdated!
Valhello (https://valhello.app) is a viking-themed cyberpunk novel and text-based RPG used as a R&D project for Ethereum's layer2 scaling technology. It is currently still in research phase.
Blockconf.io (Last Update: December 2018)
Outdated!
BlockConf (https://blockconf.io) is a small annual developer-oriented conference in the North of Croatia. Starting with 2019, it is turning into a meetup, most likely hosted in Zagreb instead.
Have I Been Sold? (Last Update: December 2018)
Outdated!
Have I Been Sold (https://haveibeensold.app) is an application for finding out if your personal information has been sold. I frequently go out and buy information from vendors who are willing to sell it. This can be websites (like Coinbase's Earn.com), exchanges (KYC data), projects (e.g. ICOs), or even conferences (like Coindesk's Consensus in New York).
Block And Mortar (Last Update: February 2019)
DISCONTINUED
Block And Mortar (https://blockandmortar.io) is a web shop dedicated to selling (at cost, not for profit) pre-synced Ethereum full nodes on micro computers like NanoPC-T4. This helps the network remain decentralized and allows dapp developers to use their own infrastructure rather than rely on someone else's.
Fintech Friday (Last Update: September 2018)
DISCONTINUED
Fintech Friday (https://fintechfriday.email) was a comprehensive and highly detailed crypto newsletter in Croatian and English. It contained the week's crypto news, but filtered for shills, sponsored content, and fake news (I would verify all sources and check with publications manually), so that the reader would have a weekly digest of actual news. It was shut down at 2k+ subs because of costs (it took two full days every week to put together and made zero money).